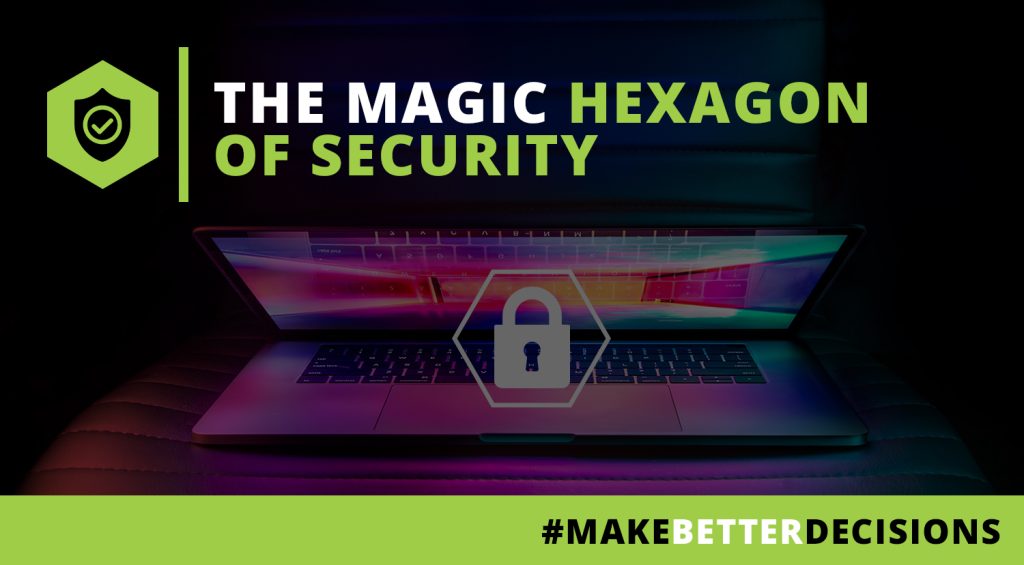 Gavotech's Magic Hexagon of Security – Protection Against Cybercrime
Cybercrime is "unlawful access to a computer, USB or external hard drive, the illegal interception, acquisition or possession of data, unauthorised use of login information or forgery, fraud, or online extortion."
And the ultimate protection against Cybercrime is Gavotech's Magic Hexagon of Security.

 – Antivirus

– Email Security

– Firewall

– Cloud Security

– 2FA/MFA

– Best Practices
In this article, we will discuss the best practices of security that you can implement in your business.
Antivirus:
Why is Antivirus essential? Let's break it down with an example – Think of the flu and how it is spread quickly from person to person by droplets. Likewise, a malware virus spreads just as quickly through your computers, systems or networks to steal, damage and destroy data.
To prevent the spread, we install Antivirus software on your local devices to monitor, scan and detect viruses, spyware, phishing and spam attacks, and other cyber threats. In addition, Antivirus keeps cybercriminals away from your important and confidential documents.
Antivirus gives you control to make sure your confidential data is secure and safe.
Email Security:
Email Security is a technique to protect email accounts, sensitive, confidential data, and communication against unauthorised access. As a result, Email Security helps to prevent data loss and minimise company downtime. An additional and vital benefit is the added protection against phishing emails – these are sent to the user to open documents or follow links, thereby downloading malware to infect your network.
We protect our emails with Mimecast.

Mimecast safeguards employee communication and reduces the risk of cybercrime with targeted threat protection, data leak prevention, and enforced email security controls.
Firewall
A Firewall monitors incoming and outgoing network traffic and permits or blocks data packets based on a set of security rules, preventing cybercriminals from gaining unauthorised access to your company's confidential information and data.

We implemented a Sophos Firewall Device. Because, firstly, it helps expose hidden risks before they can disrupt your business. Secondly, it blocks unknown threats like Trojans (malware) and spyware from stealing confidential data. Finally, it automatically responds to incidents by isolating the compromised systems to prevent breaches.

One of the notable features of a Sophos Firewall is the Sandstorm Protection AI, aka Sandbox.
A Sandbox is an isolated environment where suspicious files or applications are analysed. Data is examined and approved before passing through the firewall sandbox and into a network.
Cloud Security
Cloud Security uses software that protects cloud-based data, applications, and business infrastructure from cyberattacks and threats.
It is critical to prevent data loss and to avoid the breach of confidential documents.

Most companies use emails to share and communicate confidential data. So, we suggest taking the necessary tools to secure your cloud data.
Implementing Office 365 will reduce the risk of confidential data leaking to unauthorised users.
Two-Factor Authentication and Multi-Factor Authentication
Passwords alone can't prevent account takeover.
Two-Factor Authentication = Two-Step Verification. 2FA is software used to verify and identify the person trying to log into your device and secure the user's confidential credentials and documentation to which they have access. But, of course, one can never be too secure with confidential data.

MFA is electronic Authentication. When users request access to a website or application, they must present two or more verification categories to gain access to the data. Thus, MFA prevents third parties from accessing confidential data to which they do not have access.
Which is best? MFA is the safer choice because it has more authentication methods, making it harder for cybercriminals to bypass your additional layers of security.
Best Practices
We will suggest a few Best Practices to implement.
Make sure your operating systems, applications and Antivirus software are always up to date.
Use a strong password generator to ensure maximum security. Use different passwords for different platforms.
Regularly Backup confidential data to minimise the risk of downtime.
Be wary about suspicious emails asking you to disclose confidential information.
Always ensure that your computer is locked when leaving your seat.
Finally and most importantly, follow Gavotech's Social Media accounts for more guides, tips and information.


Don't let Cybercriminal's put a hex on your organisation. Instead, implement these practices – Hex be gone with Gavotech's Magic Hexagon of Security.