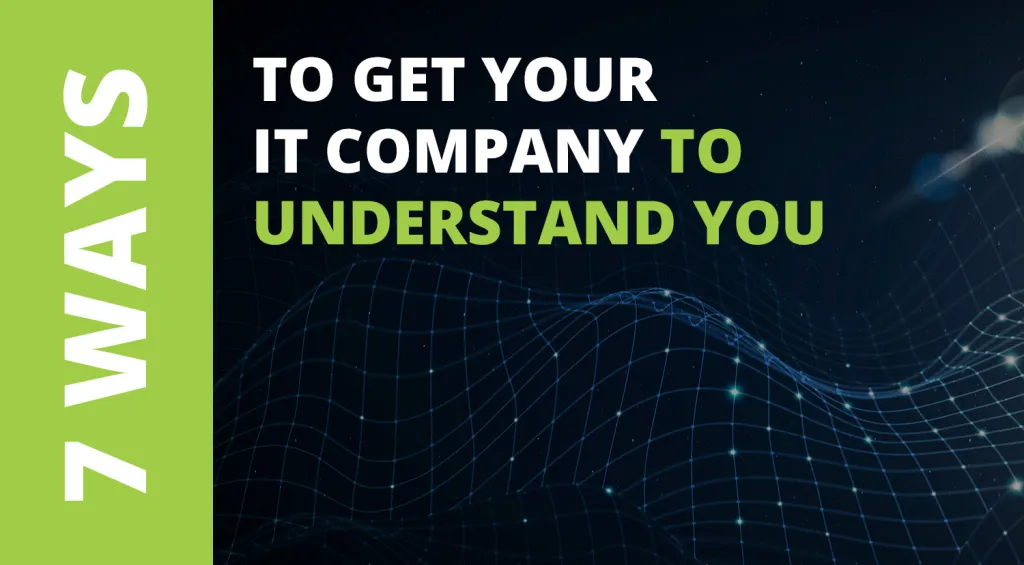 How to Get Your IT Company to Understand You
The IT industry is a complex, ever-changing beast that requires you to always be on top of your game. If you are not, your business can suffer incredibly.
It is essential to have a reliable and effective IT company that understands your needs and can help you succeed.
Here are seven ways to ensure that your IT company is meeting your needs:
Use a ticketing system to track and address ongoing problems: A ticketing system allows you to report and track issues as they arise and ensures that they are addressed on time. Make sure your IT company has a system in place and is using it effectively.
Request monthly reports to understand where time is being spent and what issues have arisen: Regular reports can help you understand the status of your IT infrastructure and identify any potential problem areas. Keep the reports simple and focused, possibly using charts or graphs to illustrate the data.
"Face to Face" engagements are vital, so schedule onsite visits with engineers assigned to your account: Having an engineer onsite allows them to experience your business firsthand and better understand your needs and daily challenges. It can also be more efficient to troubleshoot issues in person rather than relying on the phone or remote support.
Meet with your account manager regularly: Your account manager should be a key point of contact for your business, and it is important to build a strong relationship with them. They can help relay your concerns and needs to the rest of the IT team and work with you to develop solutions.
Blatant, no "BS" Honesty. Be open and honest with your IT company about any problems or concerns: To build a strong and effective partnership, it is important to be transparent about any issues or concerns you may have. Don't wait until a problem becomes a crisis – communicate early and often to ensure that issues are addressed promptly.
There is nothing worse than dealing with IT niggles.
Discuss pricing and potential costs beforehand: Unexpected costs can be a major headache for any business, so it is important to clearly understand pricing and potential additional expenses. Discuss all possibilities with your IT company ahead of time to avoid any surprise bills.
Keep it Simple. Ensure that solutions are presented and set up in a simple and understandable manner: While the IT industry can be complex, the solutions provided to your business must be clear and easy to understand. Don't be afraid to ask questions or request clarification if something is unclear. Remember, as Albert Einstein said, "If you can't explain it simply, you don't understand it well enough."
In conclusion, having a strong and efficient IT support system is crucial for the success of your business. By implementing the seven tips discussed in this article, you can ensure that your IT company understands your needs and knows how best to serve them.
These essential elements will help create a more effective and productive relationship between you and your IT company. Remember, the key to success is clear communication and a shared understanding of the needs and goals of your business. With the right support, you can focus on growing your business, confident that your IT needs are in good hands.
If you need help simplifying and understanding your IT services, our team at GAVOTECH can assist you in assessing your current IT structure and ensuring it is optimised and 100% streamlined for your growing business.