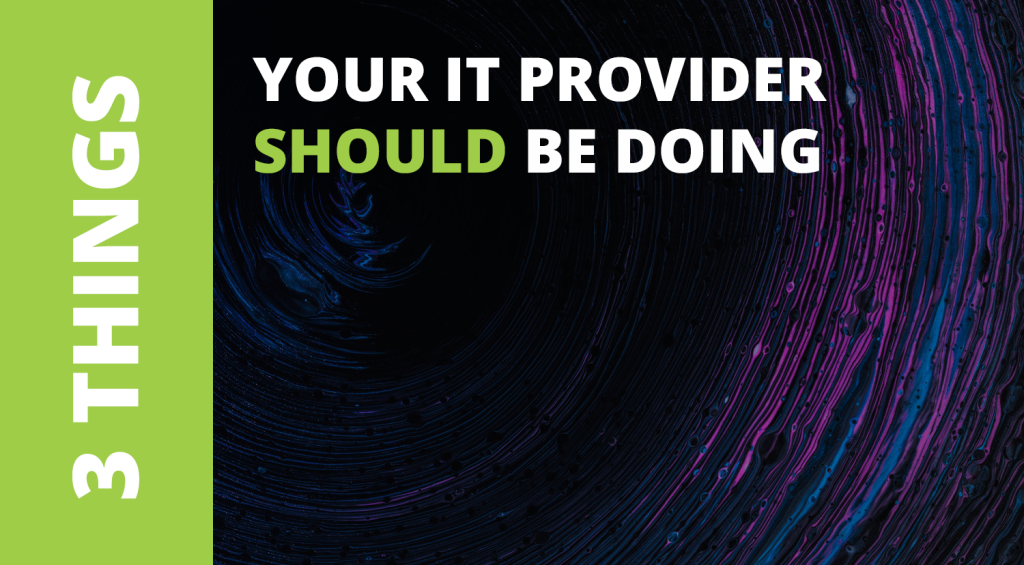 3 Things Your IT Provider Should Be Doing
Technology is a blessing and a curse when it comes to business.
There are more ways than ever to get the word out about your products and services while staying connected with everyone you do business with.
Still, some major headaches come along with all this electronic connectivity.
The downside?
When technology isn't working, your people aren't working…ultimately affecting your business and your clients.
In today's technology-driven world, it's vital for our business and personal lives to have a strong and reliable IT provider.
But what does it mean to have a strong IT provider? What should you be looking out for?
Here are three things an IT provider should be doing for your business:
Ongoing maintenance and network monitoring
Did you know that any reputable managed service provider should offer ongoing maintenance and network monitoring for their clients?
Network monitoring shouldn't just be a silent feature that you pay for and never reap its benefits. Instead, your managed service provider should check in on your network's performance at least once a quarter.
A responsible managed service provider will monitor your network and keep you updated on your network's strengths and weaknesses. They will also be proactive in fixing and preventing issues before they become problems on your network.
Proactive backup and disaster recovery solutions

Nothing is more important to an organization than its data. Data drives business applications, customer interactions, and mobile devices. But these days, device failures are becoming much more common; malware has never been easier to develop, and hackers have more access to the servers that hold your customer data than ever before.
If you use a simple solution for your IT needs, you may be correctly protecting your business from a smaller-scale mishap but may still be vulnerable to a catastrophic loss. As the cost of data breaches continues to rise, securing your sensitive information becomes more important than ever.
The moment your computer goes offline, so does your entire business. This could mean that your internet service provider may be the last line of defence between you and a massive data breach.
Do you have a reliable backup solution in place, or are you still relying on tape/memory stick backup solutions that are costly and extremely time-consuming?
Implementing up-to-date technology that scales your business
When outsourcing your IT to a managed service provider (MSP), you should rest easy knowing that your technology will always be on the latest version.
This means that when a new version of the software you use is released, your MSP should move everyone over to it immediately so that you will never have to worry about an insecure or outdated OS again.
A good IT service provider knows that keeping up to date with technological advances helps your business stay competitive with other companies while also cutting down on costs resulting from computer hardware or software malfunctions, so they will always prioritize keeping your business on top of emerging technological trends.
When you need to scale up or down quickly, it's worth the money you'll spend on a professional IT provider that stays well-informed about emerging technology trends and can find solutions for your company.
Conclusion

It's a common misconception that IT services are only necessary for large corporations. However, nowadays, small to medium-sized businesses are reaping the benefits of outsourced IT providers too.
What is the trick to finding the best IT provider for your business?
Find one proactively monitoring your network for strengths and weaknesses, putting reliable backup and recovery solutions in place, and ensuring that your company is always scaling through emerging technologies and up-to-date software.
Whether you're just starting out or are ready to cross into that next phase, finding an IT provider that implements the above focus points will ensure your company advances from a "got it covered" mentality to a company that rivals tech giants in their efficiency and innovation.