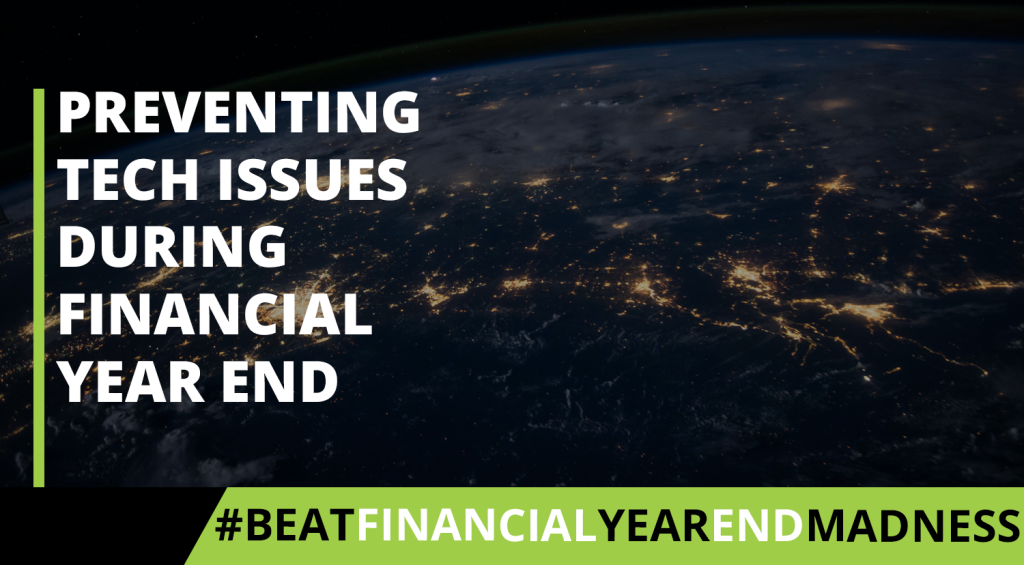 IT Solutions for a Seamless Financial Year End.
As an accountant, it is important to have a smooth and seamless workflow to meet deadlines and deliver accurate financial reports. However, technical issues can often arise and disrupt this workflow, particularly closer to the financial year end when the workload is typically heavier and time is of the essence.
In this article, we will discuss some common technical issues that accountants face and steps that can be taken to prevent these issues and ensure a smooth process.
Desktop and laptop issues:
One common issue is hardware malfunctions or issues with desktop or laptop computers. This could include problems with the processor, memory, or storage, which can lead to slow performance or system crashes. To prevent these issues, ensuring that your computer is running the latest updates and has sufficient memory and storage to handle the workload is important.
Internet issues:
Another issue that can disrupt the accounting workflow is problems with internet connectivity. This could include slow speeds, intermittent connection, or complete disconnection, perhaps due to loadshedding. Therefore, it is important to have a reliable internet service provider and to troubleshoot any connectivity problems as soon as they arise. In addition, having a backup internet connection, such as a hotspot or a failover solution, would help, especially in case of unexpected outages.
Server issues:
If your accounting firm or department uses a server to store and access financial data, especially those working on Pastel, server issues can disrupt workflow and lead to much frustration. This could include problems with the hardware, software, or network configuration. Your IT Solutions provider should be on top of this with a solid backup and disaster recovery plan. If not, don't wait until there is a problem to implement a solution.
Application issues:
Accountants often rely on various applications, such as accounting software, spreadsheet software, and document management software, to perform their work. Unfortunately, these applications can sometimes encounter problems, such as compatibility issues or bugs, which can disrupt the workflow. To prevent these issues, it is important to keep all applications up to date and to troubleshoot any problems as soon as they arise. It is also a good idea to have backups of any critical data and alternative software options available in case of unexpected issues.
It is important for businesses to invest in technology solutions that can help streamline the accounting process and reduce the risk of technical issues. For example, cloud-based accounting software can provide a secure and accessible platform for financial data, eliminating the need for a physical server and reducing the risk of hardware failure.
Get in touch with your IT Solutions provider to see what options will help streamline your accounting processes.
In conclusion, there are a variety of technical issues that accountants may face, particularly closer to the financial year end. However, by taking proactive steps to prevent these issues, such as investing in technological solutions, staying up to date with technology trends, regularly maintaining and updating hardware and software, having reliable internet connectivity and backup options, and having a solid disaster recovery plan, accountants can ensure a smooth and seamless workflow and meet deadlines with confidence.